Here is a presentation of Uplay-Istrip.com video strip poker:
The video poker game
Discover the strip-poker and its interactive videos:
In order to present you the Strip-Poker in detail, here is a screenshot showing what you'll see during the game. At the begining, you must select one to four players among the adversaries you bought. Each one starts the game with 500, but you only dispose of 100 (don't raise the roof, because you don't have to get naked!).
Win and see the strip-tease:
To watch a very hot and sexy striptease, one of your adversaries must have get under 400, the 300… So, when the amount she's got is between 0 and 100, she plays naked and your ability to stay focused on the game strangely decreases. The small blind is 5 and the raises have no limit! Let's fall for this game… it's really sexy!
A real strip game:
You'll have to do your best to watch all the stripteases. The interactive videos give the impression of a total reality!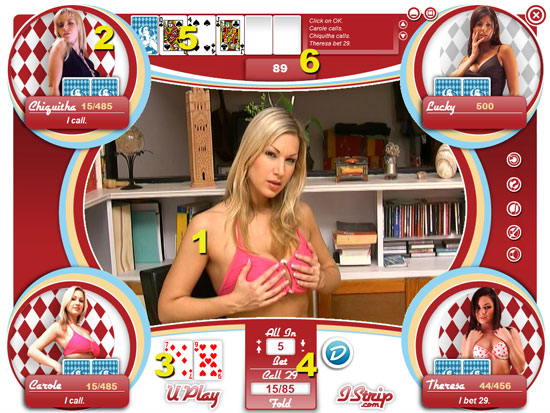 1. Videos are displayed on the central screen.
2. Each player in an angle with her cards, money and last action.
3. Your cards.
4. The player's interface with you pot and your actions buttons.
5. The flop.
6. The pot and the review of the last bets.